Pastor: Rev. Clent Ilderton
Pastor Clent was ordained in 1979 after graduating from
Reformed
Theological Seminary.  He has served as pastor of two churches in South Carolina before accepting a call to Eagle Heights Presbyterian Church in 2011.
Clent and his wife Betsy have been married 42 years.  They have 3 grown sons, 2 daughters-in-law, and 5 grandchildren.
Assistant Pastor of Family Life: Rev. Nat Davidson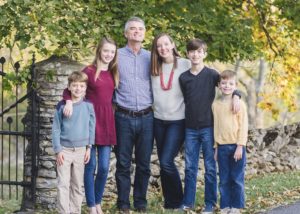 Nat is originally from the DC suburbs in Rockville, MD. He graduated from the University of Maryland and then received his Master of Divinity degree from Reformed Theological Seminary in Charlotte, NC.
Nat has served as an assistant pastor in Houston, TX, and Lexington, VA where he has enjoyed a range of responsibilities. It brings him great joy to hear how the Lord is working in a person's life, to see them grow in knowledge and love for the Lord, and to help others connect and serve in the local church body and community. Nat loves spending time with his wife, Shannon, and their four children – Graham (14), Kate (12), Benjamin (9), and Owen (7). Their family enjoys spending
time outside, whether on a bike, taking a hike,
or enjoying an outdoor meal.