The Women's Fellowship Ministry exists to bring women of all ages and in all seasons of life together to grow in their relationship with Christ through teaching, encouraging, mentoring, fostering fellowship, and serving Christ in the home, church, and community.
Get connected with newsletters by emailing us. We also have a Facebook page for connecting digitally for prayer and support and communication.
Bible Studies
Women's Morning Bible Study: A new study is starting up on Thursday mornings from 9:30 am to 11 am in the Church Kitchen. The book being used is "Revelation, The Triumph of Christ" by John Stott. This is a 12 week Bible study on the book of Revelation with commentary by John Stott. Contact Betsy Ilderton or Coral Westfall for more information.
Women's Evening Bible Study:
The Women's Evening Bible Study will be starting up again on Thursday evening, September 5th from 6 pm-7:30 pm in the church kitchen. This is a 10 week study through the hope-filled message of Hebrews. We will be reading
Hoping for Something Better
by Nancy Guthrie where she applies biblical truths of Hebrew to our very real needs of today. The book can be purchased on
Amazon
.
Women's Sunday School Class:The Kitchen Class on Sunday Morning will resume on the 15th of September (September 8th we will meet for a time of prayer). We will continue reading and discussing Colossians using a study guide by Julie Zine Coleman. We are taking "bite sized" portions of scripture each Sunday, seeking out God's word for the 21st century Christian. We face the same problems the early Church in Colosseum faced: false teachers, secular philosophies, and proposed new belief systems. Join us to discuss how Paul deals with these issues!
Upcoming Events
September 28, 2019: Annual Retreat from 9 am-4 pm at the Museum of the Shenandoah Valley
December 7, 2019*: Brunch from 11am-1pm at Pat Vida's house
*Tentative Dates
Women and girls ages 14 and up are invited to attend all WFM events. Nursing babies may attend with their mothers.
The WFM assists in hosting baby and bridal showers, as well as organizing meal deliveries for those in need. Please contact us for more information!
Highlights from Past Events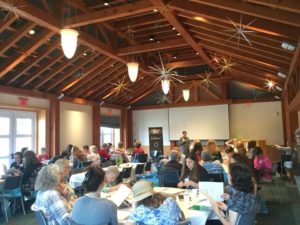 Fall Retreat 2018 at the Museum of the Shenandoah Valley
 Fellowship Luncheon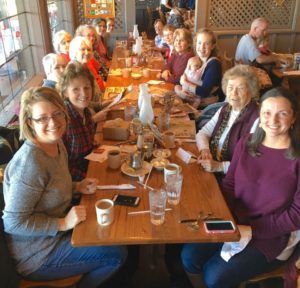 Women's Morning Bible Study Brunch at Cracker Barrel