The Women's Fellowship Ministry exists to bring women of all ages and in all seasons of life together to grow in their relationship with Christ through teaching, encouraging, mentoring, fostering fellowship, and serving Christ in the home, church, and community.
Get connected with newsletters by emailing us. We also have a Facebook page for connecting digitally for prayer and support and communication.
Bible Studies
Mining the Treasures of God's Word:  How to Faithfully Interpret Scripture: 
This is an eight week study, where we will be learning, and applying sound principles of biblical interpretation to help us make sense of the meaning of passages we are reading along with discovering what God is communicating to us in his word. We will be spending a lot of time in our Bibles studying passages in both the OT and NT. Classes will be interactive and everyone will be able to practice and share what they're learning during class. Outlines of each week's material will be sent out by email along with five or six review questions to answer (optional) after each class to help the information "sink in".
Class is scheduled for Wednesday, January 13, 2021 through March 3rd, from 6pm to 7:30pm and offered via Zoom.
Please email Pat Vida if you have any questions or would like to sign up for the class.  Invitations to log onto Zoom for the class will be emailed in January.
R.E.A.L Sisters in Christ
Relationships
Encouragement
Accountability
Laughter
Taking our adoption into Christ's family seriously!
Join us as we forge new and lasting relationships with our fellow sisters in Christ. Through one-on-one pairing, we will spend the year getting to know, encourage, support, and laugh with each other. As believers, we are called to come along side and lift up one another (1 Thessalonians 5:11), as well as to encourage one another during these difficult times (Hebrews 10:24-25).
Please sign up using this link or with one of the paper sign-up sheets on the information table at church (only one sign-up method is needed!). We hope to pair everyone up and let you know who your R.E.A.L. Sister is in January.
Upcoming Events
None currently scheduled – check back at a later date for updates!
Women and girls ages 14 and up are invited to attend all WFM events. Nursing babies may attend with their mothers.
The WFM assists in hosting baby and bridal showers, as well as organizing meal deliveries for those in need. Please contact us for more information!
Highlights from Past Events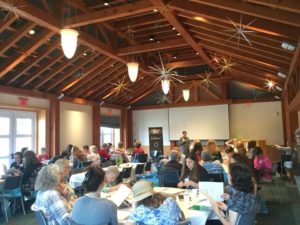 Fall Retreat 2018 at the Museum of the Shenandoah Valley
 Fellowship Luncheon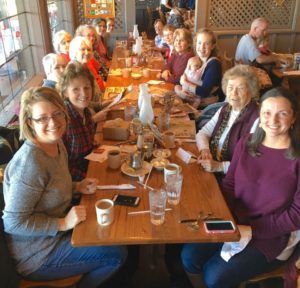 Women's Morning Bible Study Brunch at Cracker Barrel